Things to Do in Ouarzazate
With its strategic location at the foot of the High Atlas Mountains and on the brim of the vast Saharan sands, Ouarzazate has become one of Morocco's most important holiday destinations, popular among both locals and tourists. Long known as the 'Door of the Desert', Ouarzazate makes a common launch pad for camel trekking and camping trips into the Draa Valley and the surrounding Sahara desert, as well as tours of the famous UNESCO-World Heritage listed city of Aït Benhaddou and hiking excursions into the mountains.
Ouarzazate is also the heart of Morocco's film industry, with the region's mud-built towns and striking Kasbahs providing the scope for dramatic onscreen landscapes. Lawrence of Arabia, The Mummy and Gladiator were all shot in the area, along with recently shot scenes for HBO's hit fantasy series Game of Thrones, earning the town the affectionate nickname of 'Ouallywood'.
Read More
Show Less
---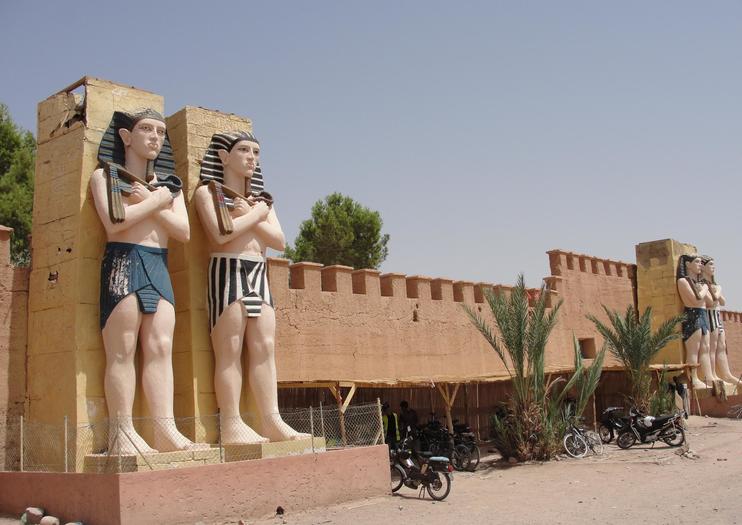 Perched on the edge of the vast Sahara Desert and with access to 30,000 square meters of natural landscapes, the Atlas Film Studios have made a name for themselves not only as the center of Morocco's film industry, but as the world's largest film studio. With a history dating back to the early 1960s, the studios boast an impressive pedigree, having hosted iconic film sets like Lawrence of Arabia, Gladiator and 'Star Wars'; popular movies like The Mummy, Jewel of the Nile, and Babel; and even scenes from recent TV hit Game of Thrones.
Today, the legendary film studios are open to visitors outside of filming hours and tours offer the chance to peek into the studios, see the remains of old sets, marvel over film memorabilia and get the inside scoop on the studio's most famous projects.
Read More
Show Less
---