Things to Do in Essaouira
Earning its place in the guidebooks back in the 1960s, when iconic musicians like Jimi Hendrix, Mick Jagger, Frank Zappa and Cat Stevens descended on its shores, the tranquil beach town of Essaouira might be over its hippie heyday, but its laid-back vibe still entices a steady stream of backpackers and curious tourists.
Perched on the Atlantic coast between Casablanca and Agadir, the fishing port and beach town retains a distinctly European feel, with its bright blue and white architecture, bustling harbor and winding souks set within its still intact 18th century sea walls. Today, Essaouira's high coastal winds make it a popular haunt for surfers, windsurfers and kitesurfers, but the town is also a lively arts hub, lined with art galleries, craft stalls, live music cafés and waterfront bars and restaurants. Time your visit for one of the town's many annual festivals to see Essaouira at its most atmospheric - the Gnaoua World Music festival, held each June, is the highlight of the entertainment calendar.
Read More
Show Less
---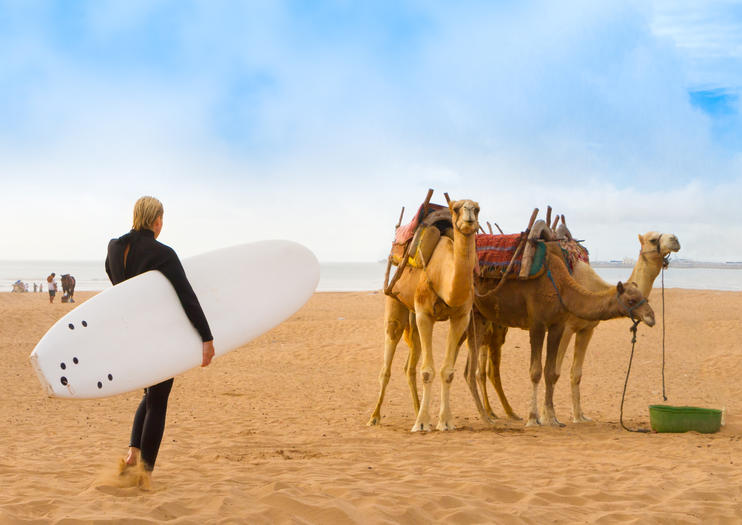 The star attraction of Morocco's hippie haven has to be its eponymous beach, and the windswept coast and sandy shores certainly live up to the hype. Lined with bars, restaurants and surf shops, the beach is best known as a hotspot for surfers, windsurfers and kitesurfers, thanks to its steady, year-round winds. The shores near Diabat may be the quietest areas for a bit of relaxation.
With few wind-free days, Essaouira beach is better suited for water sports than swimming and sunbathing, but there are still sunbeds and umbrellas available for rental during the summer months. In addition to kitesurfing and windsurfing lessons, Berber horse and Arabian camel rides are possible and popular along the beach. You'll likely also see travelers enjoying quad buggy rides along the coast and local children playing soccer in the sand.
Read More
Show Less
---